The modern farmhouse style is greatly inspired by the marriage of precisely these two components of home décor.
The farmhouse style brings a feeling of warmth and coziness to rustic décor. The modern touch makes the farmhouse style look chic and adds to the aesthetics. Together, the modern farmhouse style represents the perfect design for homes that typically sit on a large piece of land in the country.
With the signature looks of clean tones and color accents for contrast, warm wood tones, concrete countertops and rustic kitchen and bathroom fixtures, the modern farmhouse style focuses on making statements that aren't too bold but, which evoke a feel of warmth.
The Most Important Features of The Modern Farmhouse Style
One of the most important features of a modern farmhouse style home is that it aims to create a relaxed and lived-in space.
The modern farmhouse style décor is also known for its elements of nature incorporated into it. The key is to embrace the rustic and avoid cliches. Ensure that your focus remains on making your space feel warm and inviting while decorating your home.
How Can You Make Your Home Look More Like A Modern Farmhouse?
The modern farmhouse look doesn't need much to be achieved. It's all about the simple and the rustic!
Hardwood Floors To Add Some Character
Hardwoods have a beautiful, historic appeal to them! Refurnish your floors and accentuate the charm that original hardwood brings to your farmhouse style home, or refinish a wood flooring yourself to get the look!
Using Family Heirlooms To Decorate
Family heirlooms are one of the best ways to add to the rustic charm to your modern farmhouse style home. Decor pieces that hold sentimental value such as clocks, jewelry boxes or even old family portraits are a welcome addition to achieving the look.
Using
Farmhouse Style Accessories
For Every Room
The modern farmhouse style isn't just a home décor technique. It's pretty much a way of life. Which is why all your rooms need to reflect this style! From your porch decorated with faux greenery and galvanized metal and concrete pots to your kitchen, living room and bathroom- there's a little something for every room!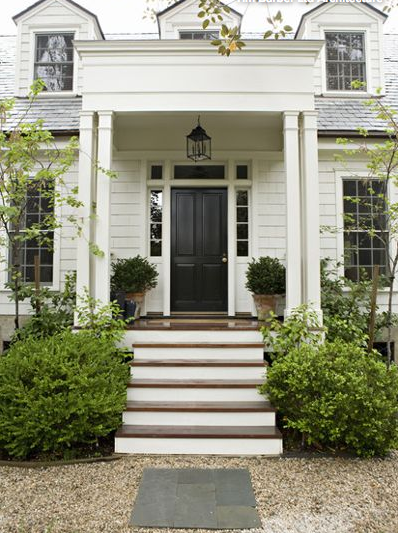 Inviting black front door and two aged pots filled with greenery says welcome.....
For the bathroom, working in tones of greys with the addition of Turkish towels or a white enamel soap dish is a simple but brilliant way to start. As you go on this beautiful journey of bringing the modern farmhouse aesthetic to your home, you will realize how much of a difference farmhouse style accessories can make to your home!